Wellness is a broad spectrum of human experiences, including physical health, mental wellness, personal development and financial life.
Wellness is not just about focusing on what's wrong in these areas and treating the symptoms, it is about being proactive and making lifestyle choices now that can have a huge impact in the future.
Recent health and wellness initiatives have been designed by businesses, government agencies, schools and other organizations.
The reason is simple: a healthier individual is a happier individual and a happier individual is good for everyone.
However, while diet, exercise and educational opportunities all play their part in happier employees & students, the financial aspect of wellness is all too often ignored.
Financial stress affects health, reduces productivity and creates family issues & marital strain.
"Arguments about money is by far the top predictor of divorce," said Sonya Britt, assistant professor of family studies and human services and program director of personal financial planning. "It's not children, sex, in-laws or anything else. It's money -- for both men and women."1
Click Here to Check Out a Compilation of 33 Financial Wellness Studies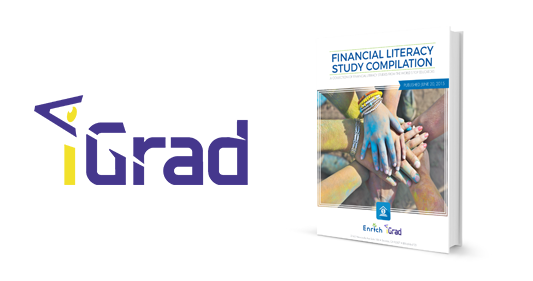 Many financial education programs seek to address these issues. Others focus simply on the concepts and key terms without connecting them to reality.
Financial education that seeks to address the person as a whole and improve overall quality of life is taking a holistic approach.
Holistic financial education has key components, and looks to serve individuals and the needs that are unique to them.
People are living differently, they spend and save differently and manage risk differently.
An education that is individualized is providing resources to help build towards personal goals.
According to Kris Alban (VP of iGrad), "Financial education is not about persuading people to come to your website and read it one time. It's about giving them what they need to know to create new behavior patterns that will impact their entire lives."
A program like Enrich™ allows organizations to design custom educational programs that connect to many areas of a user's life, and brings into focus how financial wellness can affect them all.
Then, by combining various learning strategies and engagement practices, CEO of iGrad Robert LaBreche hopes to provide an education that "increases sound financial decision-making and decreases decisions that lead to stress and other negative emotions."
1 - http://www.k-state.edu/media/newsreleases/jul13/predictingdivorce71113.html