Money problems and mental health issues are intrinsically linked.
According to the Money and Mental Health Policy Institute¹, poor finances often lead to stress and anxiety that can further impact finances.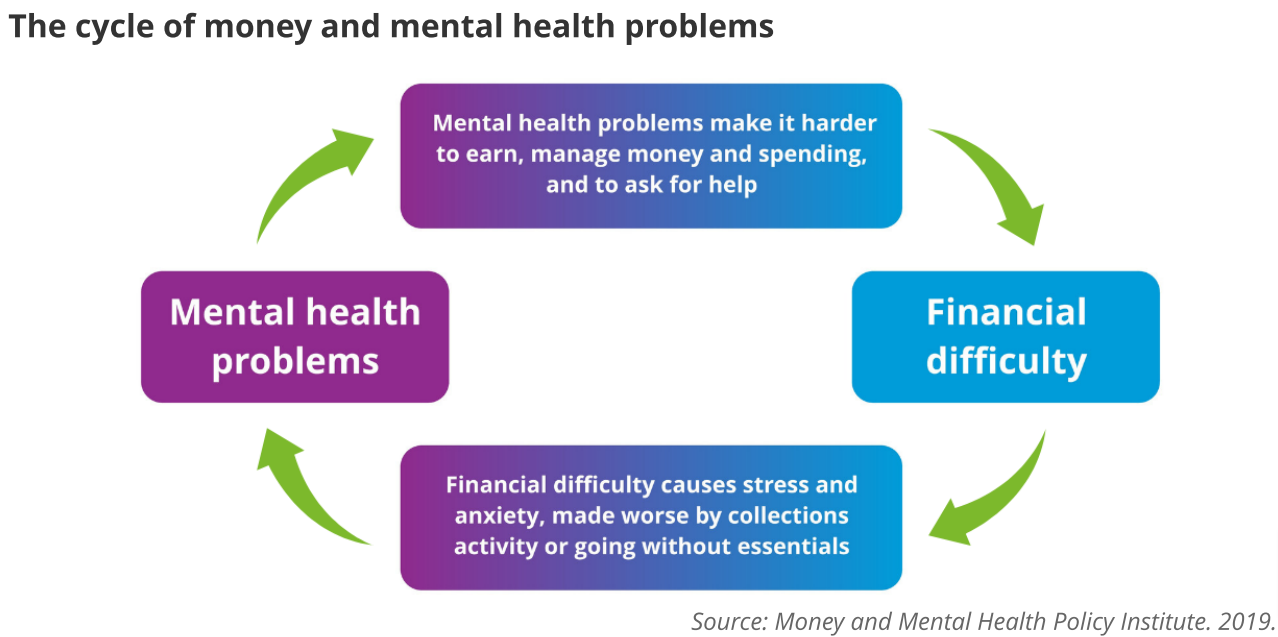 The institute found that:
46 percent of people with debt also have a mental health diagnosis
86 percent of people with mental health issues and debt say that their debt makes their mental health issues worse
People with depression and debt are 4.2 more likely to still have debt at 18-months compared to their counterparts without debt
Those with debt are three times more likely to contemplate suicide due to that debt
Americans Suffer From Financial Stress
Based on recent statistics, a majority of your workforce is feeling a significant amount of financial stress.
A Harris Poll² conducted in the early months of the COVID-19 pandemic showed that 90 percent of Americans felt financial stress.
But financial stress is not limited to hard economic times, such as the fallout from a pandemic.
In 2018 and 2019, when unemployment was at its lowest point in years, the stock market was up, and the GDP grew substantially, many Americans still suffered from financial worry.
A 2019 CompareCard³ study found that 70 percent of Americans have cried about money at some point in their lives with 57 percent of Americans doing so within the past year.
Additionally, a Northwestern Mutual study4 found that 44 percent of Americans stated that financial concerns were their number one stressor, with more than one in four feeling depressed about finances at least monthly and two out of ten feeling depressed weekly, daily, or hourly.
Financial Stress Impact on Mental Health
Continuous financial stress wreaks havoc with mental health. On the Mayo Clinic's website5, the list of mental health issues due to stress includes:
Anxiety
Depression
Fatigue
Sleeplessness
The American Psychological Association (APA)6 found that stress can lead to unhealthy habits, including excessive drinking and drug use.
Financial Stress Hurts the Bottom Line
Financial stress can impact employers too. That because financial stress manifests itself in a variety of ways in the workplace, such as7:
Daily tasks going unfinished
Lower quality work
Poorer relationships with co-workers
Indications that an employee is seeking other employment
When this happens, employers suffer increased costs from absenteeism, presenteeism, high turnover, high healthcare costs, more on-the-job accidents, less participation in 401(k) benefits, and more.
According to Salary Finance8, these issues related to financial stress cost businesses about $3,000 per employee per year.
Financial Wellness Education Is The Solution
Employers have the opportunity to help their employees and their own bottom line by offering financial wellness benefits.
The 2019 PWC Employee Financial Wellness Survey9 found that 71 percent of employees use financial wellness benefits to:
Prepare for retirement
Get spending under control
Pay off debt
Save more for major goals
Better manage investments/asset allocation
Better manage healthcare expenses/save for future healthcare expenses
With a financial wellness program created specifically for your employees and their individualized needs, employers can help lessen employee financial stress and improve mental health by providing ways to learn important financial management skills and behaviors.
Download full report on Effects of Financial Literacy on Health
1 - https://www.moneyandmentalhealth.org/wp-content/uploads/2019/03/debt-mental-health-facts-2019.pdf
2 - https://www.cnbc.com/2020/04/16/coronavirus-crisis-causing-financial-stress-for-near-9-in-10-americans.html
3 - https://www.comparecards.com/blog/americans-cried-about-money/
4 - https://news.northwesternmutual.com/planning-and-progress-2018
5 - https://www.mayoclinic.org/healthy-lifestyle/stress-management/in-depth/stress-symptoms/art-20050987
6 - https://www.apa.org/news/press/releases/stress/2014/stress-report.pdf
7 - https://www.salaryfinance.com/us/financial-wellness-guide-2019/
8 - https://www.salaryfinance.com/us/financial-wellness-guide-2019/
9 - https://www.pwc.com/us/en/industries/private-company-services/images/pwc-8th-annual-employee-financial-wellness-survey-2019-results.pdf